Create Your Own Pharmacy Website
Easy to update and look great on any device
A strong online presence is critical in building trust with patients and driving sales to your pharmacy. Our fully responsive, pharmacy branded websites are designed specifically with pharmacies in mind by making it easy for you to create and update your site to attract and retain your patients. With scheduled updates, your site will stay up-to-date while you focus on what matters.
Save Time by Scheduling Updates to Your Pharmacy Website
SnapRx's drag-and-drop website editor enables you to create an unlimited number of pages without writing a single line of code. Make changes and add or remove pages as often as you like. Scheduled updates allow you to have your website update while you focus on running your pharmacy.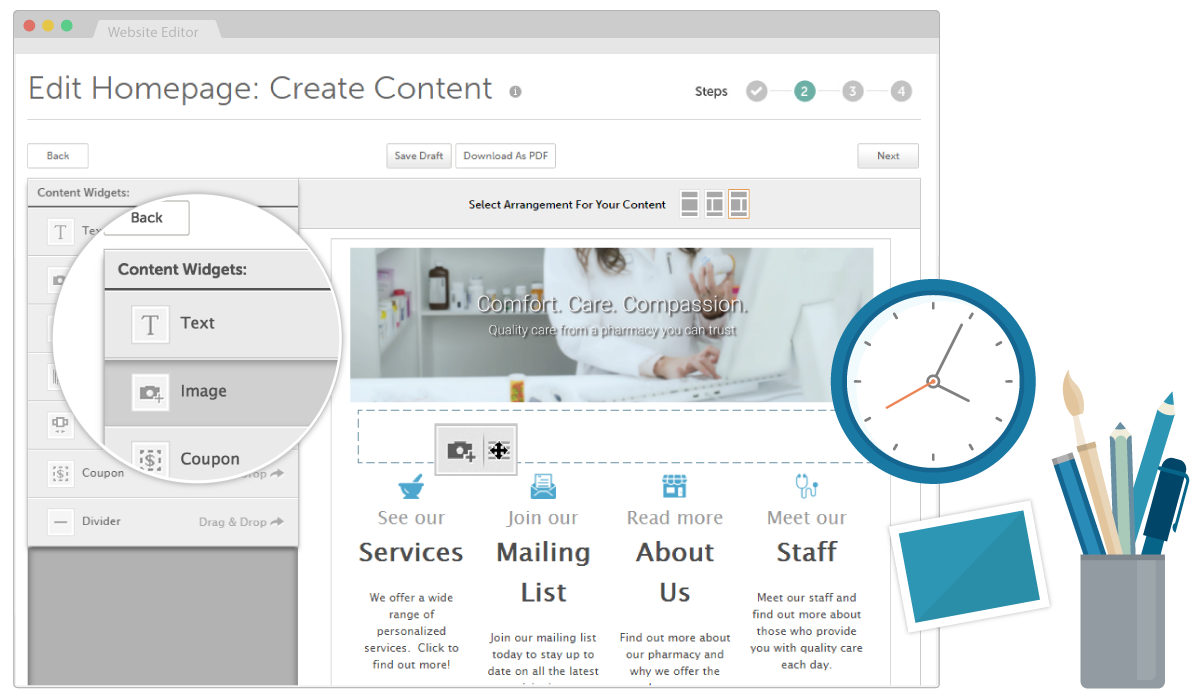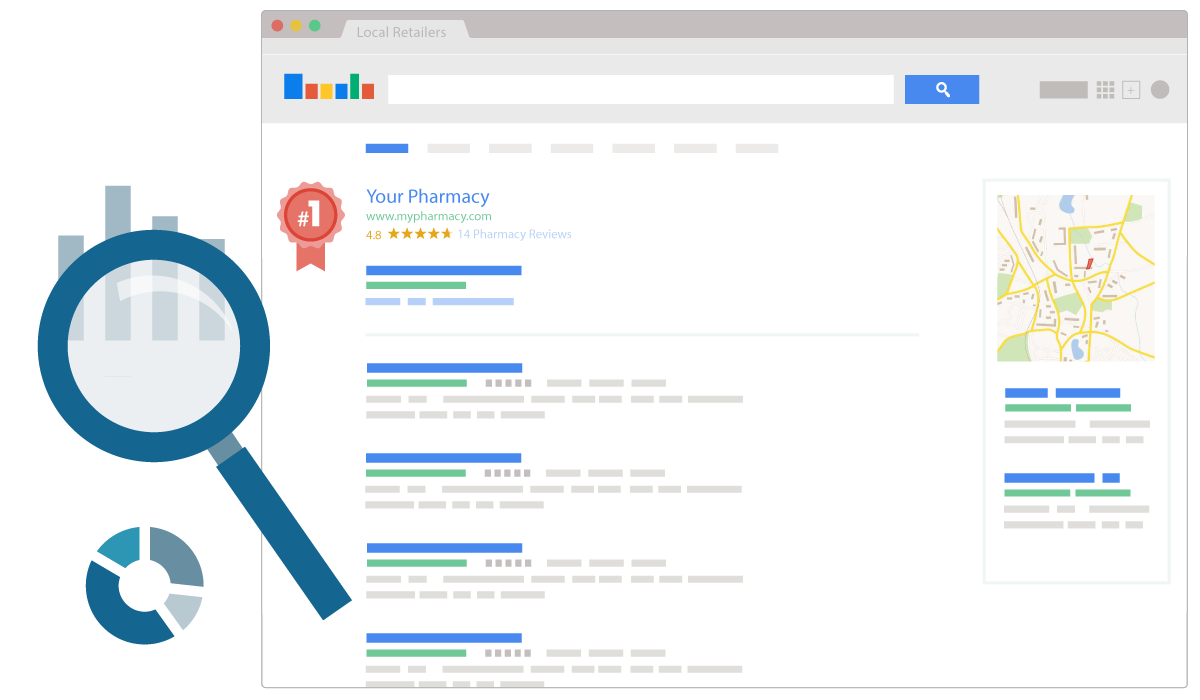 SEO: Improve Your Pharmacy's Search Ranking
72% of all patients who performed a local search ended up frequenting a business that was within five miles of them. The best way to be found online is to customize your SEO with the terms your patients are searching. SnapRx makes it easy to customize your SEO while automatically optimizing pages to increase engagement and get your pharmacy found.
Create Your Own Responsive Website
In a mobile-driven world, your patients are guaranteed to be searching for your pharmacy on their phones and tablets. With a SnapRx website, you can be confident that your pharmacy website will automatically look great on any device.  Choose from over 300 different layout and theme options and start converting patients whether they're in the office or one the go.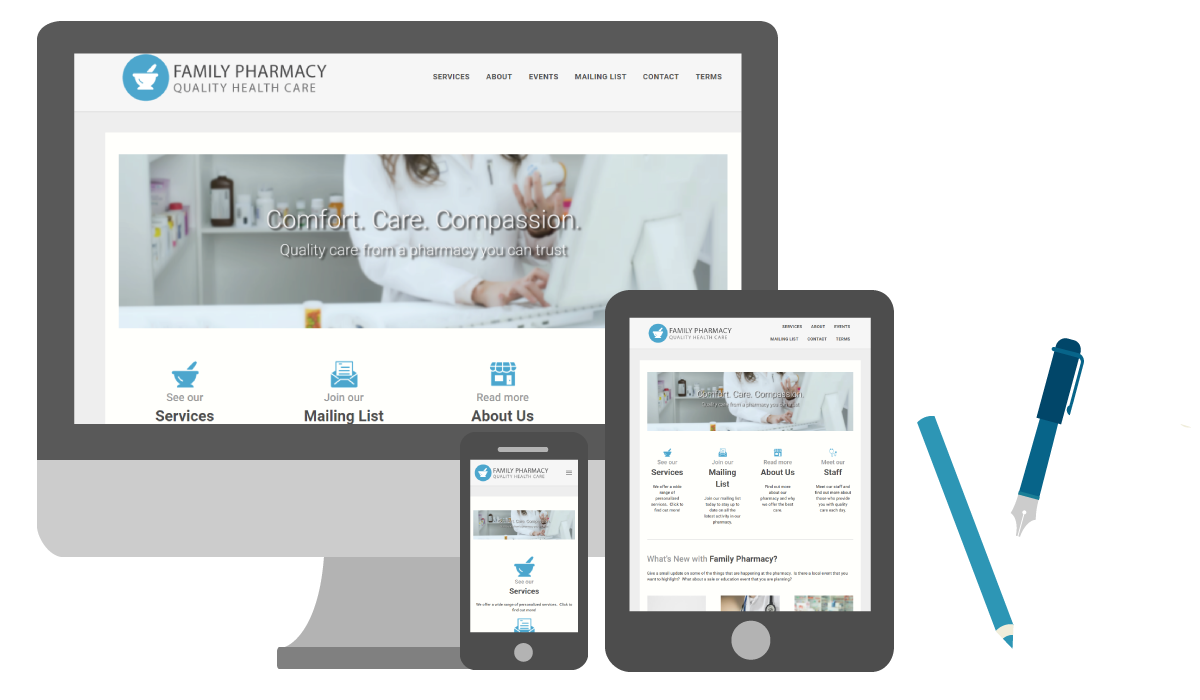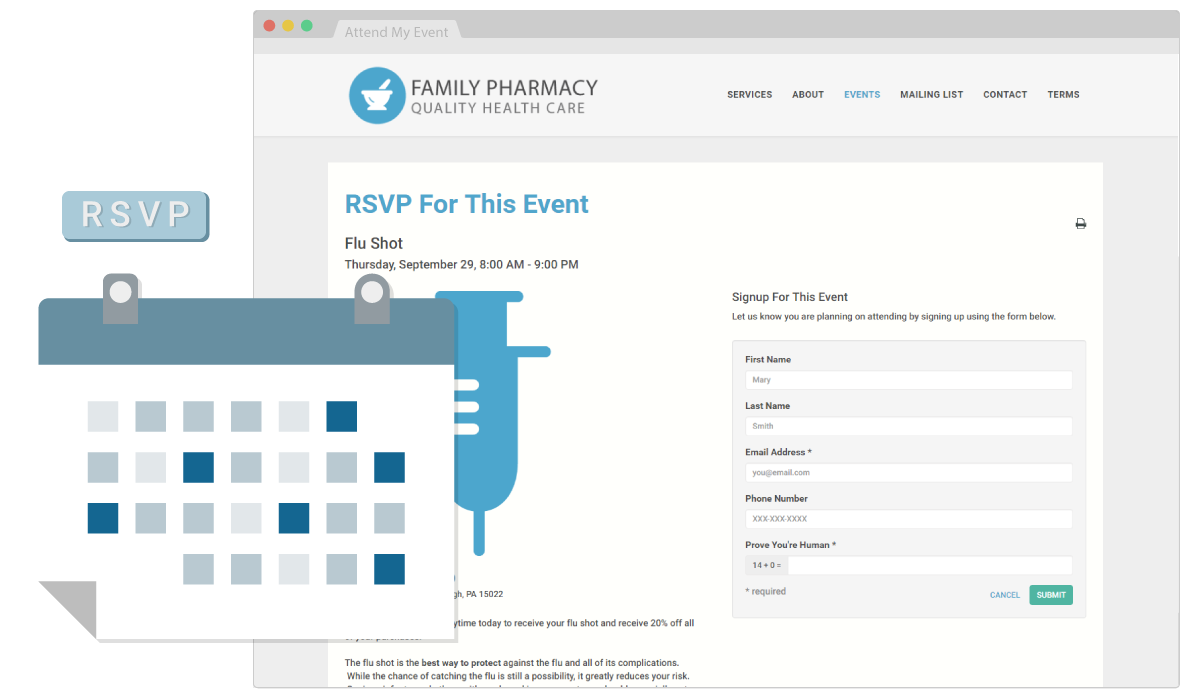 Drive Traffic to Your Pharmacy by Promoting Events
There are plenty of reasons to visit your pharmacy beyond just a refill. Create an in-store event to drive traffic to your pharmacy for annual screenings, information sessions, and more! Simply add the details to your SnapRx planning calendar and the event will automatically be published to your website. Patients can then RSVP and share your event on social media.
Responsive Websites + SnapRx:
Auto-Generated Pages: We save you time with pre-made pages to help you get your pharmacy online faster.
Layout Combinations: With over 300+ layout and theme combinations, it's easy to give your pharmacy website the look you want.
Pre-Created Templates: Save time by starting your pharmacy site from one of our pre-created templates designed to get your pharmacy online.
Unlimited Pages: There should not be a limit on your marketing, and we make sure that you can create as many pages as you like with no added costs.
Email Collection: With just one click we place your email sign up form on your pharmacy site.  No coding needed.
Video: Increase your customer's engagement by embedding a video on your pharmacy site.
Social Optimized: People will share your website and we make sure that each page is optimized to display on all your social sites: Facebook, Twitter, Pinterest, Google+ and more.
Professional Images: Take your site to the next level by using our professional stock images or uploading your own.
Grow Your Pharmacy with a SnapRx Website